 Let this be recorded for a generation to come, so that a people 
yet to be created may praise the LORD – Psalm 102:18
Trinity is so much more than its campus, and this initiative is about so much more than a building. It's the echo of the heartbeat and the driving force to worship, learn, and expand our ministry. "Let's Build Trinity" applies to every single person. It's a call to action to come alongside us as we dream together of a permanent, expanded, and sustainable campus for Trinity Saints for generations to come. 
"Trinity gave me the foundation i needed in my faith to move on to college with. "
"Being part of Trinity is being part of a safe community of amazing individuals who lift each other up and support each other during both bad and good times in life. Trinity looks to bring love and laughs to everyone around them and includes all individuals in anything they do. They are a Christian/Lutheran based community, who creates a safe place to learn, worship and congregate. From the moment our family walked on to the Trinity campus we felt safe, and excited to be a part of the school and community. We visited several schools, and our children chose Trinity the moment they stepped through the doors - they knew it was for them and we knew it was for us as a family."
The church and school have a unique synergy that fulfills the mission of serving God together. The church needs the school and the school needs the church. There are ways for literally ever church member or school family to become involved and serve. This Trinity family has been who we have leaned on for support in prayer and physical support in times of need when "life" throws us curveballs. It is our absolute pleasure to serve God through Trinity and give back with time, talent, and financial treasures.
"Trinity is home here on earth. It is a shelter where I hear about the love of the Lord. I am nourished with His grace, mercy, and forgiveness and reminded to share all of it with others. Trinity encourages me in the reason for the hope I have, so that others may know."
What does being a part of Trinity mean to you? It means having a family, a community for our kids and our family. It's more than just a school or education. Our kids know students and teachers from all over the school and feel like they are a part to all of it.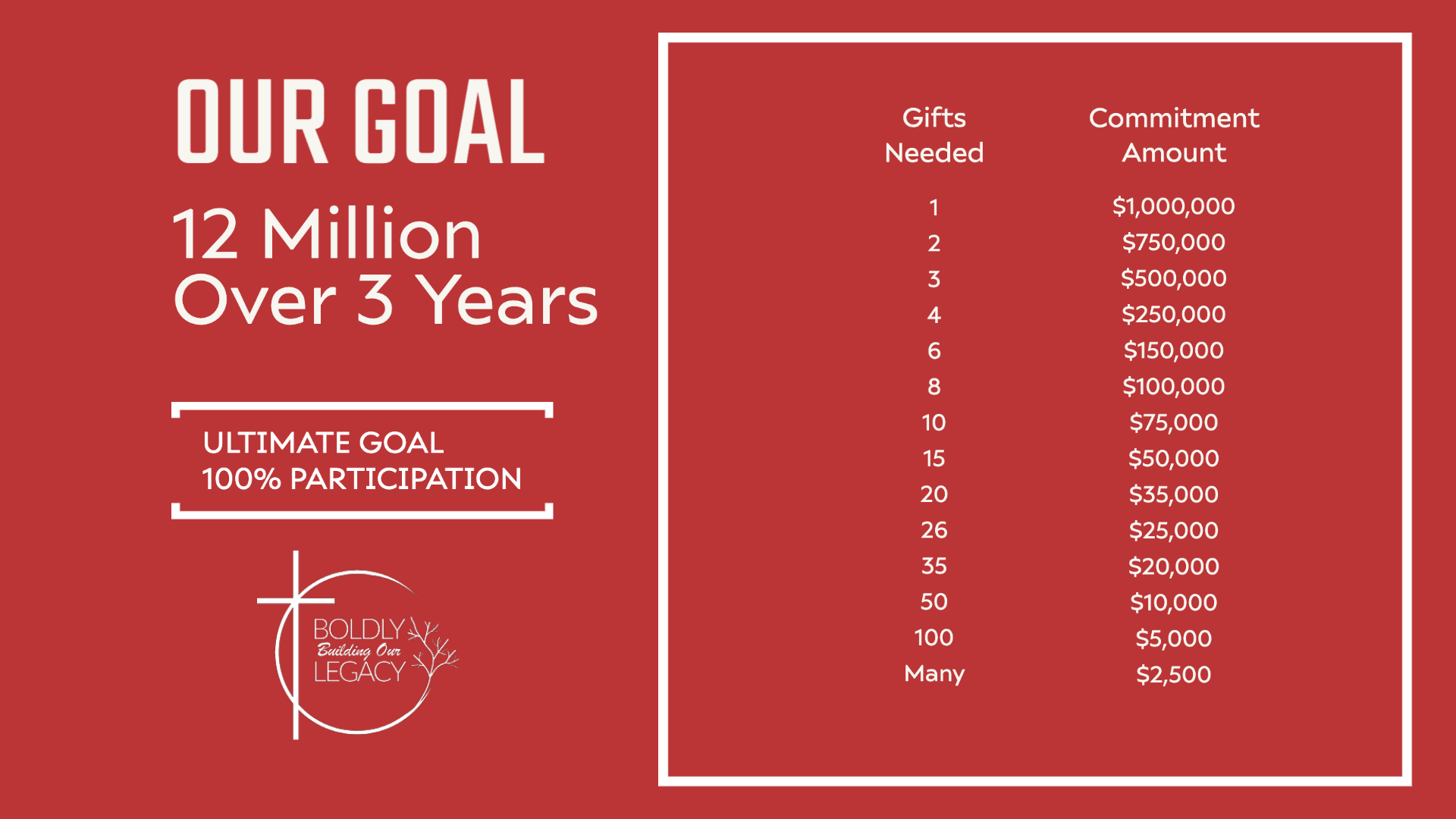 This campaign is a challenge to be bold; to be bold in prayer and bold in God's leading to contribute financially to this initiative. A bold commitment will look different for everyone, but our ultimate goal is 100% participation. 
Gifts of any size can be given over a three year commitment or as a one-time gift

How are you connected to Trinity? We have three students at Trinity Lutheran School. This is our 2nd year here....
Read More